Facet Disease

Degenerative Facet Disease

Facet Syndrome
It comes by many names and all of them mean Lower Back Pain. Do you have the following symptoms:
1. You need to lean over the buggy when you go shopping.
2. Your low back aches really bad with walking just a few minutes.|
3. Your always looking for a bench or place to sit down for just a min.
4. Sitting down relieves your back pain after just a few minutes.
5. This pain can wake you up in bed in the early morning.
6. You have low back pain first thing in the morning when you put your feet on the floor.
7. A hot shower makes your low back pain better.
If you have two or more of these symptoms YOU probably have Facet Disease and Facet Disease Syndrome. We can help.
---

Facet Joints
Facet Joints are these posterior (rear) joints of the spine where the bone above and the bone below form a joint (see picture). These joints aid in movement and stability of the spine. The bone on either side of this joint has a cartilage covering. The joint also has direct nerve innervation. Meaning there is a nerve inside the joint. (see lower picture) The joint is then wrapped in a capsule to protect it.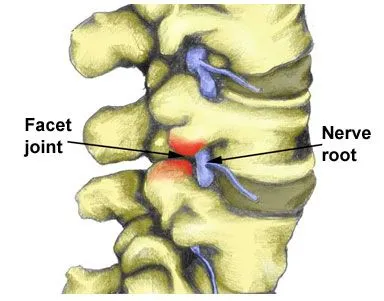 These facet joints can become inflamed and painful. They can go through degeneration or deterioration much like a tooth cavity and the surface of the facet joint can be eaten away. They can even have edema or fluid. This often leads to bone spurs and boney overgrowth of the facet which can put pressure on nerve roots. Facet disease or degenerative facet disease as doctor call it can be with degenerative disc disease or separate from what's going on with the disc. Once it becomes acutely painful we call it Facet Syndrome.
---
At all Millar Chiropractic ClinicsTM, we have a special built table, the Hill Flexion Distraction table with customized McKensey Extension built in. Now that is a mouthful, so we just call it the "Millar Facet Table." All of our Doctors are trained by Dr Millar on the Millar Facet Protocol. We treat lumbar Facet Disease, Degenerative Facet Disease, or Facet Syndrome. So if you have any of the above symptoms you owe it to yourself to try to fix the problem. Results with the "Millar Facet Table" have been excellent. Results do vary though so you need to try for yourself.
As Doctors, we have found this non invasive, non surgical, Millar Facet Protocol for treating facet disease and Facet Syndrome to be rewarding as we can offer hope to so many that have this problem. Diminishing low back pain from facet disease can be results that change your life.
Call 1-800 Go Chiro (800 462-4476) today for your appointment at any Millar Chiropractic Clinic TM
Click the links below to get more information on our area of specialization:
See what do over 8,500 of your Alabama friends and neighbors already know, that "Millar's Got Your Back." We have earned their trust and we want to earn yours too. After treating that many patients, we understand YOUR need to STOP YOUR PAIN TODAY.