Millar Chiropractic - Huntsville AL (Downtown)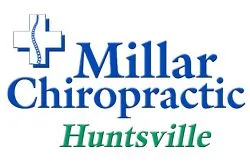 $25 - New Patient Special
So here's what you get. For $25 you get a Consultation with the Doctor, a Full Exam, a set of X-Rays to one area (like your neck or low back or knee) with an MD radiologist X-ray report. Plus a Report of Findings office visit for the Doctor to go over our exam findings and your X-ray report. Not allowed for Medicare patients as per CMS.
You just pay $25.

Please Call the Millar Chirorpactic - Huntsville Clinic
(256) 539-2000

Call - We May Be Able To Get You In Today!
---
The Millar Chiropractic - Huntsville AL (Downtown) clinic is your Huntsville Chiropractic Clinic. We're located right off the South Memorial Parkway at the Clinton Ave exit. In fact if you get off on the Southbound Clinton Ave exit we are the building in the loop off the exit. We're located at 2021 Clinton Ave W Huntsville AL 35805.
---
Dr. Joan Brown, DC | Chiropractor is the Millar Chiropractor at Millar Chiropractic - Huntsville AL (Downtown). She is originally from California. She moved to the Eva, Alabama area years ago. She was a graduate of Life University, College of Chiropractic. After passing all parts (I, II, III, IV and physiological therapeutics) of the National Boards, she has been in practice for four years.
As a Chiropractor, Dr Brown also treats lots of conditions but she specializes in six areas:
1) Dr. Brown likes to treat bulging and herniated disc and the radiating pain that they produce. 2) Low back pain with or without leg pain, or weakness. 3) Neck pain with or without arm pain or weakness. 4) Headaches and Migraines. 5) Sciatica. 6) Joint Pain (the big joints Hips, Knees, Shoulders and the little joints elbow, wrist, hands and ankle, foot and toes). She also love to treat children, pregnant women and pregnancy issues. Dr Brown has a wonderful bedside manor. She is friendly, helpful and listens to every patient. Dr Millar went on to say, " She has that innate ability to get to the root cause of ones problems and fix that problem. You can't teach that. Doctors either have it or they don't."
Dr Brown is in network with BCBS and accepts most insurance. She is also CMS - Medicare provider.
---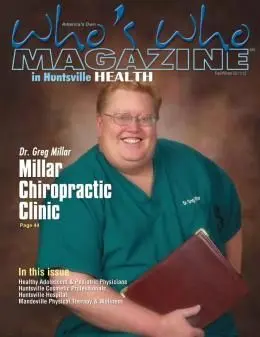 Dr. Greg Millar, DC CCEP | Chiropractor is the founder & CEO of Millar Chiropractic Clinics. In addition to his Doctor of Chiropractic degree, he also holds the CCEP designation which takes up to 2 years of additional education and is certified in the treatment of extremities (hips, knees, ankles, feet - shoulders, elbows, wrist, hands). He has been practicing Chiropractic since 1997 when he graduated from Life University College of Chiropractic. Dr. Millar practiced for years with the neurosurgeons of Univ of Alabama Birmingham, Dept of Neurosurgery handling their cases before and after surgery. He has treated thousands of disc and sciatica patients over the years with decompression traction, lasers and conservative care. He practices chiropractic at Millar Chiropractic - Huntsville AL (Downtown) (256) 539-2000 and American Spine & Rehab (256) 519-6800.

Dr. Millar, DC CCEP has completed additional Board approved postgraduate, training, examination, and Certification by National University of Health Sciences, thereby expanding his Alabama Scope of Practice to preform administration and dispensing of (IV) intravenous therapy, (IM) intra-muscular injections, and (JI) joint Injections to small, intermediate, and large joints of nutrient supplement(s), vitamins and minerals, amino acids, peptides, fatty acids, enzymes and antioxidants, botanicals and phytonutrients, food concentrates and extracts, nutraceuticals, homeopathic remedies, compounds and compounded products. Dr Millar is one of two Doctors of Chiropractic in Madison County Alabama to have completed this extra postgraduate training and Certification so far. He looks forward to other Doctors of Chiropractic joining them in this pursuit.
But he is perhaps best known for his approximately 500 appearances on ABC WAAY TV Channel 31 over the years. He was the host of MedLine TV Show Saturday night for 12 years as well as BackTalk TV show and Morning Medical News and Comment. He has authored four books. He is a local speaker for civic, business and church events but most of all he is a Doctor and enjoys treating and helping patients.
Dr Millar as a CCEP - Certified Chiropractic Extremity Practitioner Specializes in treating extremity problems both Acute and Chronic:
I. Upper Extremities
Shoulder Pain:
Frozen Shoulder (Adhesive Capsulitis)
Shoulder A/C Joint Problems
Shoulder Supraspinatus and Infraspinatus Tendonitis
Swimmers Shoulder
Arm Pain & Forearm Pain:
From overuse and repetitive motions
Tendonitis
Elbow Pain:
Tennis Elbow (lateral or outside elbow problems)
Golfer's Elbow (medial or inside elbow problems)
Wrist Pain:
Carpal Tunnel
Tendonitis of the Wrist
Ulnar Nerve Problems
Hand and Thumb Pain:
De Quervain's tenosynovitis
Trigger Finger
Arthritis of the hand and fingers
II. Lower Extremities
Hip Pain:
Bursitis and Arthritis of hip joint
Hip Traction
Buttock and Upper Leg Pain:
Piriformis Syndrome
TFL/ITB - lateral (outside) leg pain
Hamstrings and Quadriceps pain
Hip Flexors/Leg Adductor Muscles/Leg Abductor Muscles
Knee Pain:
Jumper's Knee
Patella (front of the knee) Pain
Baker's Cyst (back of the knee) Pain
Arthritis of the knee (medial inside knee pain) (lateral outside knee pain)
Osgood Schlatter's Disease
Lower Leg Pain:
Shin Splints
Peroneal entrapments
Ankle Pain:
Achilles Tendinitis
Heel Spurs
Foot Pain:
Plantar Fasciitis
Metatarsal Bursitis
Toe Pain:
Morton Neuroma's
Arthritis
Dr. Millar uses CMT- Chiropractic Manipulation Therapy; Lasers; IM injections and JI joint injections of nutraceuticals and homeopathic remedies; IASTM - Instrument Assisted Soft Tissue Mobilization; Dry Needling; and other modalities for acute pain (3 months or newer). He uses CMT - Chiropractic Manipulation Therapy; IM injections and JI joint injections of nutraceuticals and homeopathic remedies; Shockwave Therapy; Dry Needling; and IASTM -Instrument Assisted Soft Tissue Mobilization for chronic pain. Most of what Dr. Millar does is not covered by insurance. Therefore, Dr. Millar is not in network with nor a provider for any insurance company. Dr. Millar is also not a Medicare provider. All services are on a self-pay cash basis. Dr. Millar does treat patients with pulse wave shockwave therapy however he does not treat ED or ED related disorders as that is not his anatomical focus.
---
Dr. Millar is also the recipient of the Best Chiropractor Huntsville Award for 2023. He is very honored that he was again nominated by the people of Huntsville for the 2023 award. He was also registered in Who's Who of Chiropractic for the past 5 years. Dr. Millar said, "All the awards are great; but, getting to the root cause or true cause of a patient's problem and then fixing that problem is my greatest joy."

Want the Best Chiropractors in Huntsville, well Millar Chiropractic Clinics was the recipient of the 2022, 2021, 2020, 2019, Best of Huntsville, Chiropractor award.


We were also given the #1 Best in Business Award, Chiropractor for five years in a row for Huntsville and North Alabama. But the award we most covet is being your Chiropractor and helping YOU get out of and stay out of Pain.
If your searching for Chiropractor Near Me then we're your Chiropractor.
---
New Patients click this link and fill out your new patient paperwork online:
Fill Out Online Forms
---
For an appointment at Millar Chiropractic - Huntsville AL (Downtown) call the clinic at (256) 539-2000


Pain Relief Treatments
At Millar Chiropractic Huntsville (Downtown) we treat many conditions but we specialize in 6 areas of excellence:
Bulging, Herniated, and Prolapsed Disc problems and their associated radiating pain and weakness.
Low Back Pain - from a little arthritis to bulging and herniated disc
Neck Pain - from a little crick to bulging and herniated disc
Headaches & Migraines
Sciatica Leg Pain and/or Weakness
Joint pain lower extremity (Hip, Knee, Ankle, Foot ) "We love to treat Knee pain"
Joint pain upper extremity (Shoulder, Elbow, Wrist, Hand, Thumb)
Other areas we treat are:
Injuries and acute (new) conditions
Chronic conditions
Arthritis of the spine or joints
Degenerative Disc Disease
Sacral/Pelvis Pain
Facet Pain (low back or neck)
Degenerative Facet Disease
Stenosis (neck or low back)
Nerve Pain - neuropathic pain
Neurological issues - from pinched nerves to entrapments
Muscle Aches and Pain
Fibromyalgia
Chronic Fatigue
Carpal Tunnel
TMJ

Plantar Fasciitis
---
Searching Google or Apple for a Chiropractor Huntsville AL
Many people today search Google or Apple for a Chiropractor. Next time you search "Chiropractor Near Me" or "Chiropractor Huntsville AL" choose Millar Chiropractic - Huntsville AL (Downtown). There you will find a highly reviewed Doctor of Chiropractic supported by an amazing staff (also highly reviewed). Millar Chiropractic - Huntsville AL (Downtown) is where Chiropractic Excellence meets State of the Art Equipment along with a compassionate caring team that will listen to you, really listen to you and try to get to the root cause of your problem and treat that root cause.
---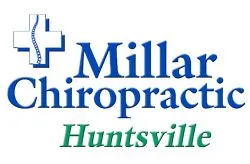 Millar Chiropractic - Huntsville (Downtown)
2021 Clinton Ave W Ste A
Huntsville, Alabama 35805
(256) 539-2000
(256) 539-7078 fax
Clinic hours: We see patients Tuesday and Thursday 8am till 12:30pm and 2pm till 6pm. Closed daily from 12:30-2pm for lunch.
Closed Monday, Wednesday, and Friday. Please see our other Huntsville clinic for Mon, Wed and Fri appointments.
Closed Saturday and Sunday
Dr. Joan Brown, DC
Dr Greg Millar, DC CCEP (By Appointment Only)

[From the South Memorial Parkway take the Clinton Ave exit to the light at Clinton Ave and turn right. Go 200 feet and we're on your right.]

[From North Memorial Parkway take the Clinton Ave exit to the light at Clinton Ave and turn left. Go under the overpass and we're the first building on the left.]

Next time you need a Chiropractor call Millar Chiropractic, your full service Huntsville Chiropractic Clinic.