Start Getting Out of Pain Today!

$25 New Patient Special


Here's what you get. So for $25 you get a Consultation with the Doctor, a Full Exam, a set of X-Rays (to one area say your neck or low back or knee) with an MD radiologist X-Ray report. Plus you get a Report of Findings Visit with the Doctor for us to go over our exam findings and your X-Ray report. Pay $25 cash special price. Some insurance accepted. No Medicare accepted for this special as against CMS Rules.
Call (256) 539-2000
---
Get seen today as a new patient, in most cases. We accept BCBS, Medicare, and most major medical insurances.

If you're a cash patient, then Millar Chiropractic Clinics extends to you Welcome we accept cash patient.
For People Just Like You.. Everyday

Questions? Start with a Free Consultation*:
This is a chance for you to meet with one of our Doctors for a Free* 15-20 minute discussion of your problems to see: 1) if we can help you 2) how long will it take and 3) how much will it cost.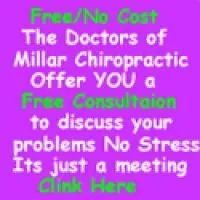 Insurance Patients: Most of us have limited insurance benefits. So start with the New Patients Special and stretch your insurance benefits.

In pain? Get seen today in most cases. Just tell the front desk that you're in pain and need to be seen today.


Dr. Joan Brown, DC
Start Getting out of PAIN Today!!
Tired of being herded into a room only to spend less than 5 min with the Doctor? Tired of Doctors not even touching you but examining you from across the room? So are WE. Discover Chiropractic Excellence at Millar Chiropractic Clinics TM.



All new Millar Chiropractic patients get a thorough History and Examination with one of our chiropractic physicians including:


The Millar Chiropractic Clinics 20 Point Pain Check Up
1. Pin point pain
2. Chronic stiffness and aches
3. Painful catches and cricks
4. Grinding, clicking, and popping noises
5. Painful turning and motion
6. Compensations
7. Reflexes, Sensory (Numbness and tingling)
8. Pinched nerves
9. Tendons, and ligament pain and problems
10. Muscle spasms and trigger points
11. Muscle weakness
12. Joint pain, stiffness, weakness
13. Overall joint and body alignment and Posture
14. Adhesions and asymmetry in muscles and ligaments
15. Orthopedic test
16. Neurological test
17. Range of Motion exam
18. Palpation exam
19. Muscle testing
20. Nutritional evaluation
Report of Findings: During which our Doctor will explain to you what they found, if anything, and answer 3 questions:


Can we help you? (Did you come to the right place?)
How long will it take?
How much will it cost? (How much will insurance pay and how much do I have to pay out of pocket.)
option #1
option #2
Call the Appointment Center
at (256) 539-2000 or Toll Free 1-800 462-4476
for your appointments at any of our clinics.
Regular Chiropractic:
Millar Chiropractic - Huntsville (Downtown) (256) 539-2000
Dr. Joan Brown, DC Associate Millar Chiropractor
Dr. Greg Millar, DC CCEP Senior Millar Chiropractor

Functional Medicine:
Millar Functional Medicine - (256) 539-4000
Dr. Greg Millar, DC CCEP
Dr. Helen Stoddart, MD
Dr. Bonnie Sims, ND

Decompression Traction:
Alabama Laser Spine Decompression (256) 539-1000
Dr. Greg Millar DC CCEP, Senior Millar Chiropractor
Dr. Helen Stoddart, MD

Personal Injury:
American Spine and Rehab (256) 519-6800 Personal Injury Chiropractic Clinic
Dr. Bishop DC
---
At Millar Chiropractic Clinics, we like to say "Millar's Got Your Back And More".

We Treat lots of Conditions but We Specialize in 7 areas:
Low Back Pain - with or without disc problems
Neck Pain - with or without disc problems
Upper Mid Back Pain - with or without radiation into the scapula or shoulder
Headaches and Migraines
Sciatica - Sacral Pain and Pelvis Pain
Joint Pain - Hip, Knee, Ankle, Foot | Shoulder, Elbow, Wrist, Hand
Personal Injury and Whiplash - Injuries from motor vehicle accidents

We treat lots of other areas. We understand how to help you get out of pain and start living again.
Millar Chiropractic Clinics
Experienced Doctors of Chiropractic
Most New Patients seen the same day.

Emergencies and Walk-ins welcome.

Convenient Hours from 8am till 6pm daily.
---
Disclaimers:
BCBS of Alabama, Federal BCBS and Medicare:

Millar Chiropractic Clinics will gladly bill your insurance company in most cases. But remember your insurance is a contract between you and your insurance company and you are still responsible for your bill if the insurance company does not pay.
Dr. Joan Brown, DC is a BCBS of AL and Fed BCBS provider. She also accepts Medicare.

---
Dr. Millar Not in Network with BCBS of Alabama or Medicare
Dr. Millar, Dr. Stoddart, and Dr. Sims do not accept any insurance. They do not participate with BCBS, Any other insurance or Medicare.
See other disclaimers that apply