Sciatica Can Be Life Changing
Welcome to Millar Chiropractic Clinics

Highly Rated Chiropractor


+320

G

o

o

g

l

e

5 Star Reviews company wide
+215

Facebook

5 Star Reviews company wide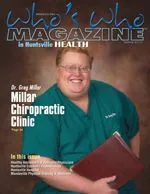 Millar Chiropractic Clinics has 6 clinics located in Huntsville, Madison, and Jones Valley Alabama.

We specialize in sciatica and/or low back pain relief treatments.

Our Doctors have years of expertise in helping patients get out of low back pain with everything from an acute (injury) to chronic lower back and sciatica problems. Often the cause of sciatica is low back disc problems. We treat low back disc problems (herniated or bulging) non-surgically using the proven LDCR Protocol (Laser-Decompression-Correction-Rehabilitation). Many Patients seen same day.
This month we're offering a Free Consultation with the Doctor
A Free Consultation is just that.
A 15- 20 minute meeting to talk about your problems and our possible solutions.



Or Call the Appointment Center at (256) 830-0000 Now
---
What Is Sciatica? Sciatica Definition
Sciatica is classically defined as pain or weakness that runs down the leg. The sciatica pain can run into the SI Joint (sacroiliac joint) and/or the hip joint and/or down the leg to the toes. The pain can feel like any or all of these: sharp, shooting, dull, achy, burning, tingling, numbness, and even pressure. The leg can become weak as the muscles are effected by the nerves creating difficulty moving the leg, and/or foot and/or toes. The most common thing we hear from patients is they describe a leg that feels like "it wants to go out on them."

Sciatica, Low Back pain, or Disc Problems:

We Can Help
Leg Pain (or weakness)
Nerve problems (pain or other symptoms)
Muscle Problems (pain, spasms, weakness)
Sciatic Nerve Entrapment (Neuropathic pain)
Bulging or Herniated Disc
Pinched Nerve
Degenerative Disc
Chronic or Acute
Strain/Sprain
---
My name is Dr. Millar….thanks for coming to this website. Do you have sciatica or back pain? Take a second a grab a copy of this special report which reveals an amazing new technology that gets rid of and helps eliminate sciatica and back pain…without drugs or surgery! Just click the link below and complete the form for instant access. You'll get it instantly, plus you'll qualify for a no obligation Free Consultation.
Yours truly,
Dr. Millar
PS. Once you get the report, if you have any questions, contact me anytime.
---
---
Have a Professional Evaluation of Your Sciatica for only

$49
We're running a very special offer this month only where you can find out how much this amazing treatment can help your Sciatica pain. Now. What does this offer include? Everything we normally do in our new patient evaluation this month only for $49 cash, check or credit card OR we bill your insurance for the new patient exam and you just pay your normal co-pay and you still get everything. If you have a big deductible you only pay $49 for the full exam.
1st and foremost: we will be very honest with you. If we can help you then we will accept you as a patient. If we can not help we will refer you to someone that can help you...fair enough?

Just call and here's what you'll get…with this Special Offer
● An in-depth consultation (meeting with the Doctor) about your low back where we will listen…really listen…to the details of your case.
● A complete neurological examination, where we look at your nerves and possible nerve paralysis or damage. Especially if you have leg pain or weakness.
● A complete orthopedic examination, where we look at your bones and joints for possible problems.
● A complete muscular examination, where we look at your muscles for weakness.
● A complete range of motion examination, where we look at your spine range of motion and the effects wear and tear have had on your spine.
● A computerized back analysis so we can look at the spine and the pull of the muscles.
● If you need X-Rays, for just $50 more you can have a full set of Low Back X-Rays with an Radiologist MD report. These are yours to keep even if you don't become a patient. (The $49 special does not include the cost of the X-rays) OR we can bill your insurance for X-Rays.
● A Full Report of our Findings of so we can start mapping out your plan to being pain free.
● You'll get to see everything first hand and find out if this amazing treatment will be your back pain solution, like it has been for so many other patients.
The normal cash price for this type of extensive evaluation and examination including everything we laid out above and the Report of Findings visit is over $250, so you're saving a considerable amount by taking us up on this offer now. We always like to give good value for your money.

or Call the Appointment Center Now!
local at (256) 830-0000 or toll free 1-800-432-4476
---
FREE Consultation* - A Free Consultation is just that. A 15- 20 minute meeting to talk about your problems and our possible solutions. No Exams preformed. No Chiropractic treatment given. Should the person receiving Free* services as outlined above be accepted as a patient of Millar Chiropractic Clinics then additional regular charges for treatment will be incurred in individual cases as needed for related services. Some patients are not allowed to receive reduced fee or free chiropractic or medical services. It is up to YOU to determine if you can receive free services. This offer applies to new consultations only and does Not apply to Existing patients, Personal Injury or Workers Comp consultations. For all services, results vary in individual cases. Cash Value of Free Consultation $0.01.
---